I have a confession to make. My name is Haynes, and I am homestead groupie. It's true. I attended the Mother Earth News conference.
And I bought the t-shirt.
I carry on late night strategic planning sessions about how many acres of wood lot would be needed to provide a sustainable source of fuel for wood heating a home year round….. and… I own a 1/4 acre lot.
So yeah.. not quite living the dream yet.
I am, however, growing food on a 1/4 of my 1/4 acre yard with room to expand so I'm pretty darn happy. When the time comes to get that dream rolling Fayette County, here in the New River Gorge region of West Virginia, offers some of the most affordable land prices available to fulfill the homesteading dream while maintaining proximity to a growing mountain community and a world-class outdoor recreation and sportsman's mecca.
In the mean time, well, I fix my farming jones with visits to see my friends Jess and Andrew Stout. They're a young homesteading couple that are pursuing their sustainable living dreams, and succeeding, over at Stout Grove here in the New River Gorge Region. I swung by the other day to pick up my tiller find out what the second summer at Stout Grove was bringing about. Want to follow along and find out more about these projects? I've inserted links below the pictures that will take you over to articles on the Stout's blog. Here's what's growing at the Grove….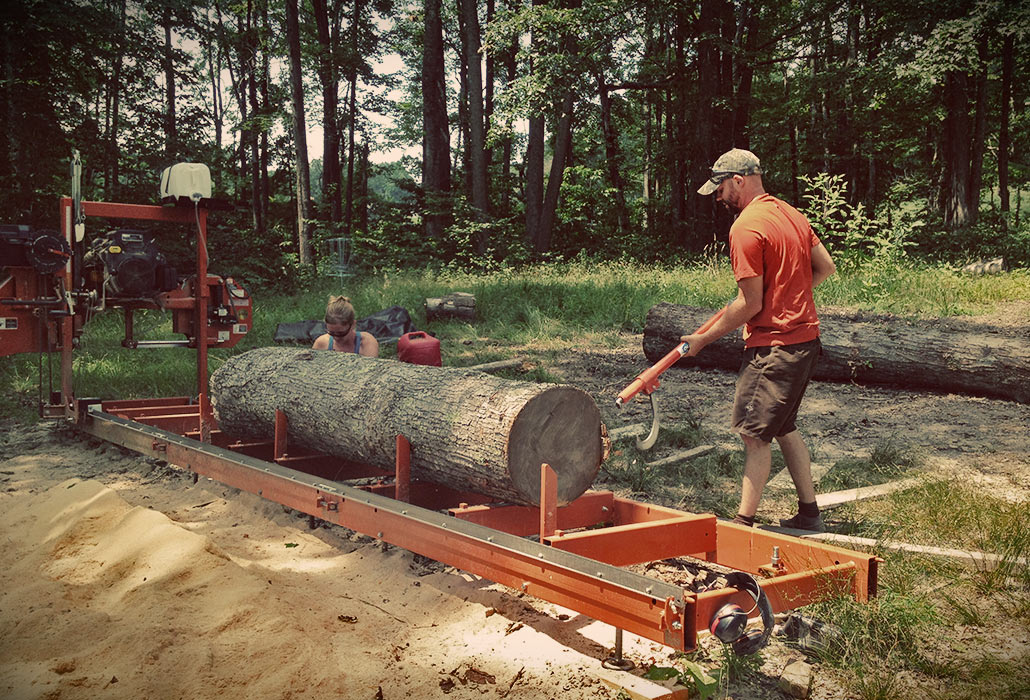 Like most weekends when the weather is good Jess and Andrew Stout were busy at the Woodmizer sawmill turning logs into lumber. Several massive maple logs were being milled into boards that would eventually become interior trim for their house to be.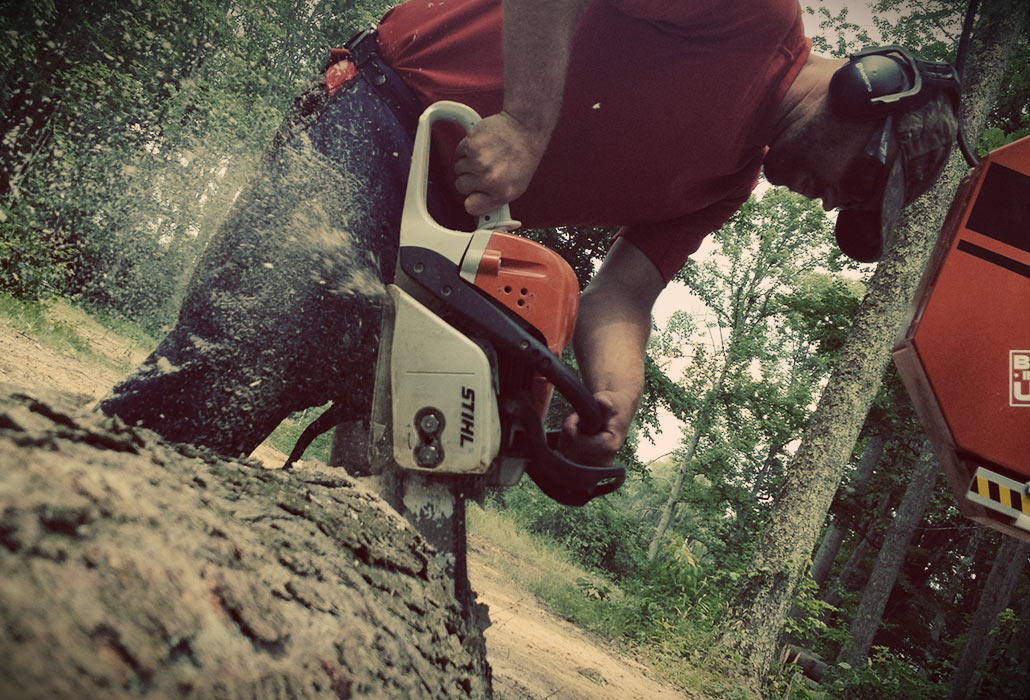 The process starts with a downed log being trimmed of any branches and cut to a length that will fit onto the sawmill. Jess put together a two blog series described the log to lumber process.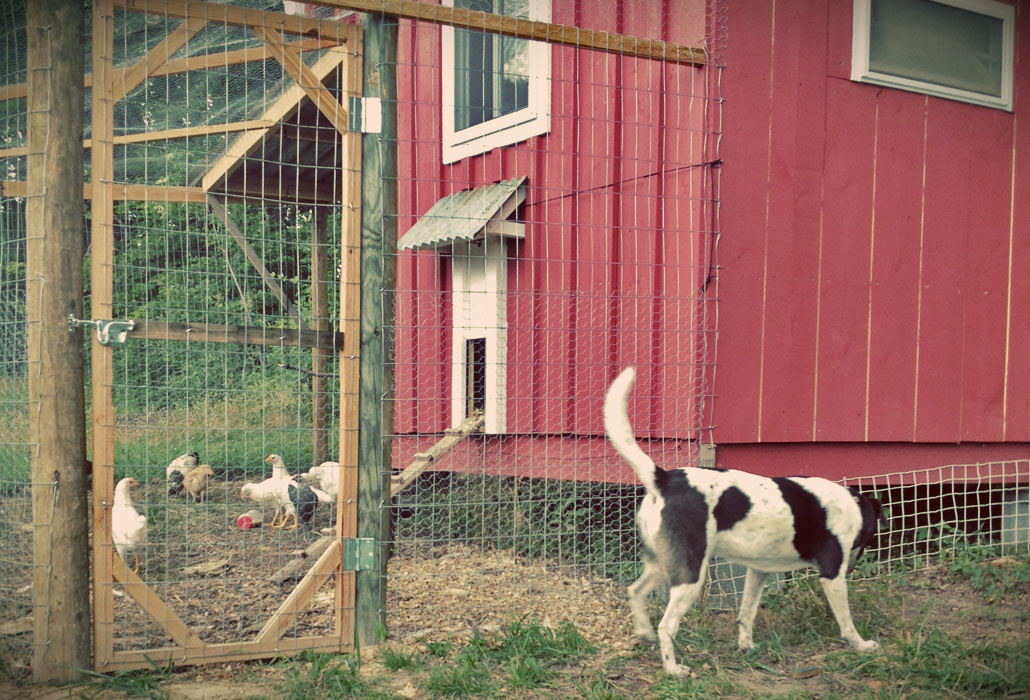 Where do all those boards go? First they went into a beautiful post and beam barn used for the primary storage of equipment and supplies out at the farm. Friends came from across the country for a few days for a traditional barn raising, and the end result was impressive to say the least.
The next building was this palatial chicken coop and work shed combo. No joke… this chicken coop is nicer than the shack I lived in during my years working as a videoboater and raft guide.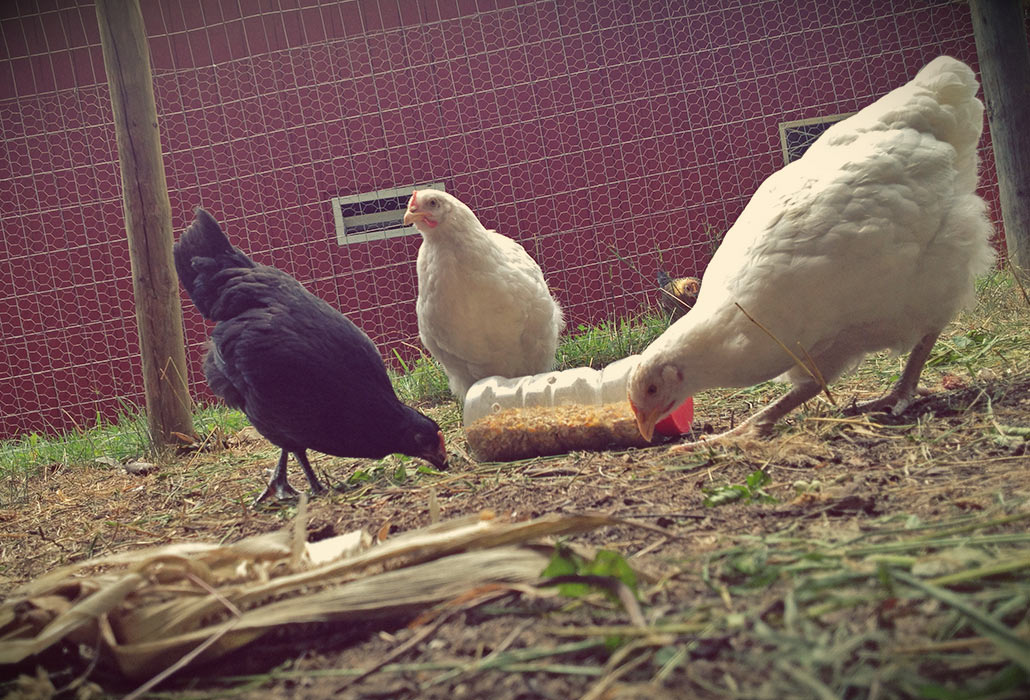 Where there's a chicken coop, of course you'll find chickens. Jess and Andrew bought a mixed batch of layers, all different varieties. I was surprised how friendly, and curious the little girls are. They were pretty engaged that day, playing with a toy Jess made from an empty plastic nut jar. She poked a few holes in the side and filled it with feed… kapow! …. chicken Kong toy!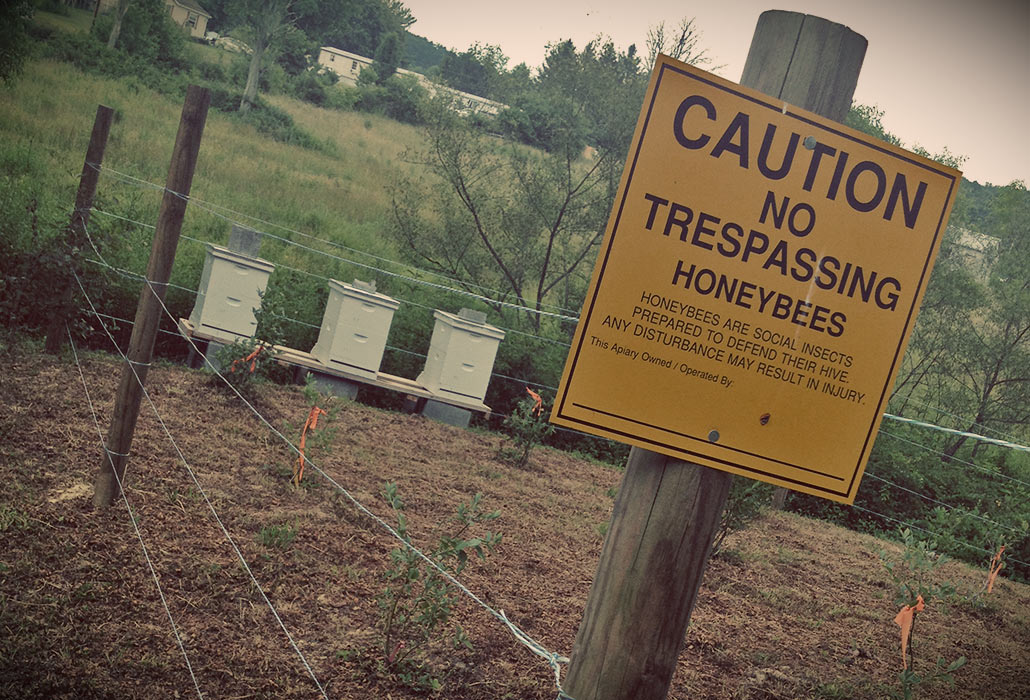 The blueberry patch has been planted with a fence to keep out the herd of family and friend owned dogs that tend to roam the property. Tucked behind the patch are three beehives that will be providing honey for the residents of the compound… and hopefully Jess will be brewing up some more of her ginger, honey mead (cough, hint, cough).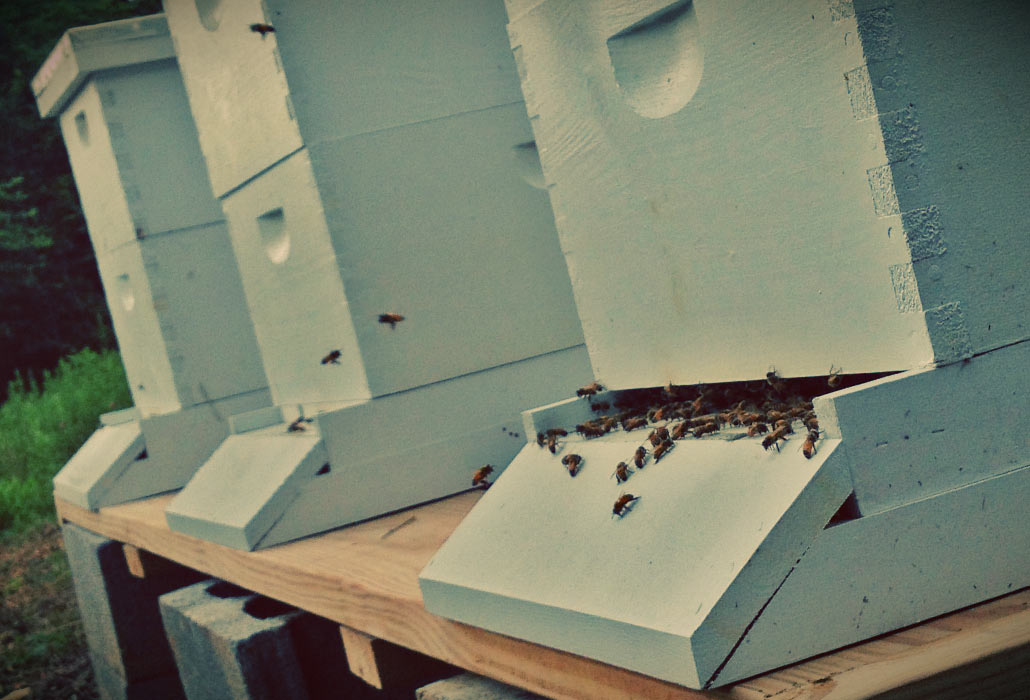 Considering all the challenges these little pollinators have been facing lately due to the residual effects of pesticides it's great to see happy, healthy hives.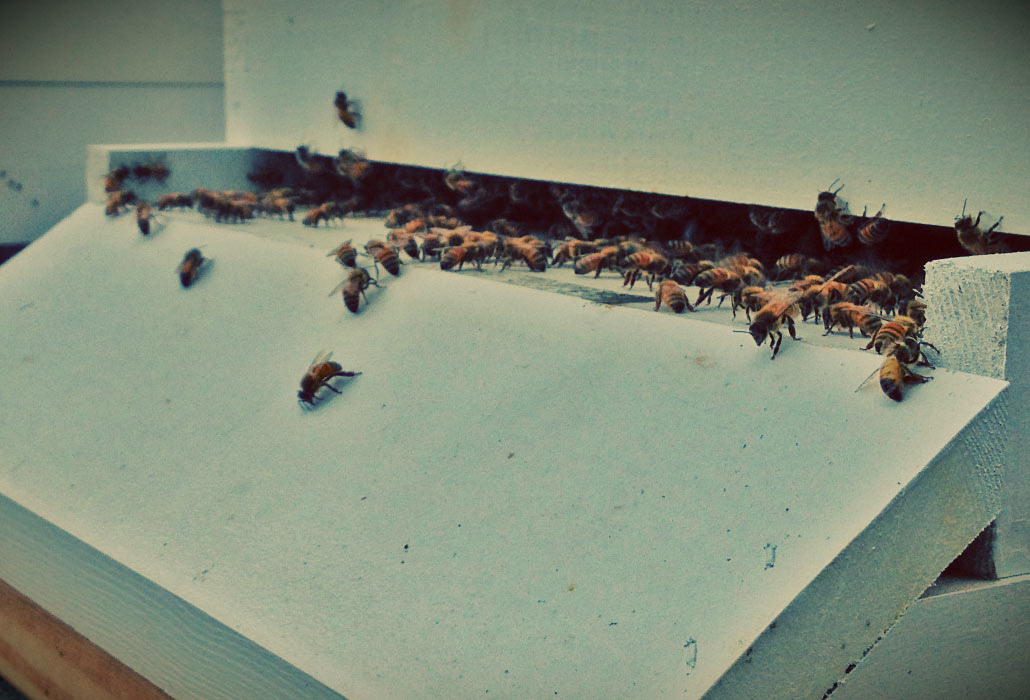 Despite the fears placed on bees they're a docile bunch. I was fascinated how close I could get to hundreds of bees and watch them go about their business without the threat of a sting.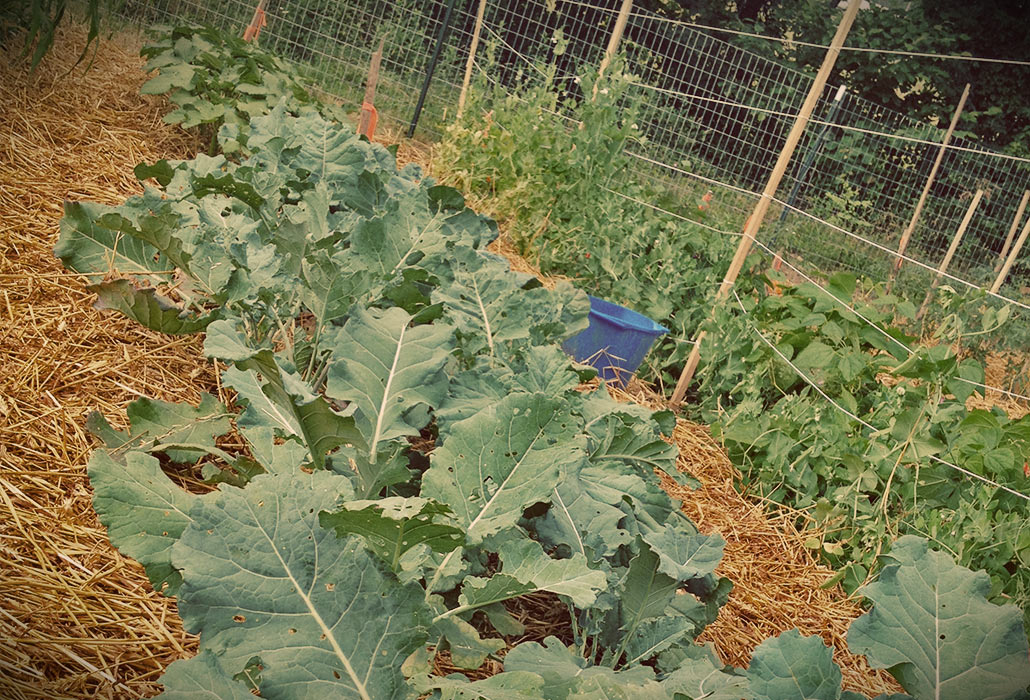 A massive garden has gone in full of corn, broccoli, chard, sugar snap peas (the gardener's candy that never seems to make it into the house before it's eaten) and other great veggies. Around the corner, thanks to a grant from the College of Charleston, 300 hop plants have been planted to help research the viability a new cash crop in West Virginia. Cheers to that kind of research!
There's always something interesting going on at Stout Grove, and you can follow along with Jess and Stout's adventure at stoutgrove.wordpress.com.